Let us know how your furry friends enjoyed their stay!   When we get a chance between feeding, playing and fluffing your pets, we will post them below! Also, be sure to check us out at our Facebook page and Yelp reviews!   Please remember: reservations at Auntie Barbara's are done through phone calls only! This is for everyone's safety so we ask that you respect this policy.
Be sure and check out our Facebook page to see how your family member is doing!  Thank you so much for trusting us with your furry friend.  It is a real treat to care for them!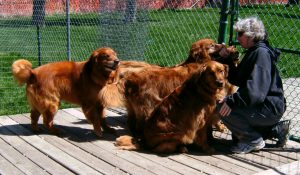 This was Mausi's first time away from home and she was with Aunt Barbara for a short 3 night stay. I am confident that Barbara and her staff provided concientious care; they appear to truly love their doggie visitors. Mausi will be returning for a longer visit in the future. Thank you…
We have been taking our little furchild to Auntie Barbara's for approximately six years now and have been so happy with the care that she receives. Riley is very happy to see Barb and Haley when we drop her off. We love the whole atmosphere of the complex, the very much like home interior and individual rooms with couches and rugs, to the expansive and secure outdoor area to run and play. It's wonderful that we can take her own bedding and toys that she is already use to and comfortable with during her stay. We could not even imagine a better place for our girl to be while we are out of town.
We left our two small dogs at Auntie Barbara's for a little over a week and they were very well taken care of. One of the dogs is 17 and has some old age issues and the other has a lot of personality. The facilities are excellent and the care just as good. I would not hesitate to leave them with her at any time.
We just brought Gizzy home from her 10 day vacation an Auntie Barbara's. Gizzy was really a happy dog. This is her 4th time there. We've taken her to other boarding places with bad results before taking her to Auntie Barbara's. We will never take her anywhere else. Thank you Auntie Barbara for your loving care of our baby.
I am so glad Charlie had a chance to stay with you! I really appreciate all of the information you gave us on the different foods and about the Old English Sheepdog breed in general. I love the billing print out you gave us when we picked Charlie up!! It's so nice that you make it so personal and tell us the details of his stay! I also loved seeing the pictures of your guests in the "Dog of the Month" section on your website and reading the bits of info on each dog! 🙂 Thank you again for everything and for taking such great care of Charlie!
Belle's wonderful stay at Auntie Barbara's – This was our first time boarding our furry loved one for two weeks. Belle was very well taken care of as if she was their own. We have nothing but nice things to say about Auntie Barbara's. We will be back to this wonderful place. Thank you again for your services.
Just wanted to share how happy Coconut is to always visit Auntie Barbara's. Since Coconut was a puppy she has visited when her family goes out of town, which is 12 years! We always know she is in wonderful hands.
We picked up our three year old spaniel mix rescue from his first stay in a kennel. We are so lucky that we picked Auntie Barbara's for Mooch's first stay. While he was anxious about being left for the first time since adoption, they handled him with great care and did everything they could to make him feel secure. When he didn't want to eat, special food was prepared and when he didn't seem comfortable, a bed was provided. This is a beautiful, well thought out property with loving caretakers. You have our business and our endorsement unconditionally.
THANK YOU!
Buddy is 10 years old and has had both ACL's replaced & has arthritis in his knees. He has one speed…..fast! The only person we trust with Buddy is Auntie Barbara. He has been with her for almost 10 years, and we won't leave him with anyone else!
Sadie let me know that she enjoyed her vacation with you last week. I missed Sadie but I knew she was well taken care of so I also enjoyed my trip not having to worry about her.
Many thanks to the staff for their care.
We are eternally grateful for the extra care that you provided our dog Olive. After experiencing a health issue, you provided her with care, consideration, and veterinary attention. She is doing well now. Thanks so much to you and your staff, Barbara. We are confident that she is in the hands of family when she stays with you.
Hi, just wanted to let you know Chauncy and Toby are just fine, no more poopie issues. They came home happy and ready to play. Thank you for taking such good care of them. They will definitely be back.
Girls came home refreshed and looked great. It is so wonderful to know that when we leave them at the spa they will be taken care of beyond expectations. Thank you so much for your dedication.
Barbara, sorry it took so long to get back to you. I was so pleased to have my dogs happy and calm when I took them home. While they were glad to see me, I could tell they would have stayed longer. Thanks to all of you for making their stay pleasant and for giving me peace of mind that they will be well taken care of.
Our dogs just finished vacation #8. They're excited to come and they're in great shape when we pick them up. Can't say enough how worry-free our vacations are because we know they're so well cared for. The 3 are able to room together at Auntie Barbara's, which also eliminates stress, and their individual needs are all addressed. We appreciate your efforts. Triple thanks!
Easter weekend was Sunny's second visit to Auntie Barb. She spent 4 days once again and was well taken care of. Auntie Barb and the staff quickly learned how much Sunny likes to "run". Everyone was kind with putting up during my phone calling to check on her due to my own separation anxiety. A little saint even sewed Sunny's bed back together after my little angel deciding to shred it a bit!!! Once agagin, the entire process from start to finish was smoothe and easy. Sunny appears to do very well on her stays with Auntie Barb and staff. THank you again.
Susan Bowen
Thank you so much for taking such good care of Dingo. He had a great vacation too!!!!!!
We just wanted to thank you and all of your staff for taking such great care of our girls. I can tell that they enjoyed themselves and were very well taken care of, they are insisting on playing all the time so I know you all must have been playing with them a lot. Thank you for running such an incredible place, it really makes leaving them so much easier knowing they are being so well looked after. You are very much above and beyond the norm! Thanks again and we will be seeing you again for sure!
Thank you Barbara for the attention and care you gave to Duke. After an 11 day stay he returned to us with the same happy attitude – looking great. We were impressed with your "Doggie-Parenting Skills" and concerns about details.
Layla was a recent guest for 8 days. She was so well taken care of and in such good spirits when she was picked up. We were able to enjoy our vacation knowing that Auntie Barbara would take great care of her. We would never leave our dog
anywhere else!
Formally from Crown Point, Ind, we moved to Ft. Myers, FL in 2003. Auntie Barbs IS THE BEST PLACE WE HAVE SEEN! My former two golden's loved Auntie Barbs and so did we. Many times they were picked up by limo from the airport (midway) and the driver loved pulling in there, hope I can find a picture that we took with the limo and the "girls" at your place.
I WISH THERE WAS A PLACE LIKE YOURS here in our area. NOTHING compares to Auntie Barb's! Glad to know you are still in the area since we are coming for a visit in July and may fly our new golden with us and if we can, we will be making a reservation at your location. Can't wait to see you again. I was so surprised to see your website. NICE ONE TOO!
Thanks Auntie Barbara. I've been taking Buckles here for about 5 years now and this last visit I knew would be hard for me because it would be the longest time seperated. But I also knew it was the best place like always, he would be loved and cared for just like home and I would not have to worry just concentrate on my surgery. Your the best.
Just wanted to take the time to say thanks to Barb and her entire staff. Since Buddy was a puppy this is the only place to bring him for his vacation. It gives us a peace of mind knowing Buddy is well taken care while we are away.
Nice to know our dog McMillian is in good hands while we're away. One less thing we have to worry about when planning a trip. We wouldn't have our dog stay anywhere else.
"Sunny" is my two year old Labradoodle who has never been away from me. While she attends doggie daycare two days a week, she has never slept away from home. Needless to say, leaving her over Thanksgiving was very difficult for me. It was also her birthday the day I dropped her off, making this even more difficult. I was extremely happy to learn how well Sunny did at her stay with Auntie Barb. I was able to phone in two times and had a very reassuring conversation about how well things were going. From the drop off procedure to the pick up, things ran in good sync! Your kindness, dedication, and care is most appreciated. Sunny apparently did not miss a beat in her normal daily routine. The outstanding conditions and care were greatly appreciated and highly recommended to others. Thank you again for taking Sunny into your care. Susan Bowen
Thank you Auntie Barbara & staff!We were able to relocate our daughter to another state without worrying about our Rev.. Boardig your pets should never add stress to your trip! Rev was ready to go home ; ) .. but happy,clean and well cared for..We wish you good health & prosperity for long time !!
We recently left Olive for a long weekend and in spite of her medical conditions, ie , loss of sight pretty much in one eye, putting up with a potty butt, Barbara and her staff did a wonderful job taking care of her. I always have peace of mind when leaving her here. She is always well taken care of and is in great care and I have no doubt that they (staff) love what they do. I highly recommend this place to everyone.
First time for Lucy to be boarded and I was a bit worried. But all went very smoothly from the interview to drop off and pick up. Auntie Barbara's is a top notch boarding facility and I would highly reccommend it. Lucy was well cared for. Next time I won't be so worried. Thanks to all who took care of my baby.
Moses loves your place.And most of all, we don't worry about him when he's with you. Thanks again for taking care of him when we need to get away.
You are the first person we are contacting. Nancy & I had Murphy put down this afternoon. These last few days were pretty rough on him, and us. He still ate well and Pooped OK, but he was too weak to even stand. We knew it had to be done, but it was really tough to let him go. Many thanks to You and to you staff for all 25 vacations he spent with you. Close the file on Murphy, but keep our name on you books. It will be a while, but we most probably get another pet to bring to Auntie Barbara's, Thanks again so very much.
We have just picked up our two huskies after 9 days with Auntie Barbara. They are clean, happy, not crazy nuts and tired from their days of multiple runs in the yard daily. Mya peed on the driveway in excitement when she saw Auntie Barbara and both Mya and Jonah ran straight out the back door without even a backward glance at us. They are watched over and taken care of every bit as well as I do it myself. It is a wonderful, caring place to leave my fur-kids. Thanks Barb and staff. It's so great to be able to vacation and not worry.
For these past 30 years I have had giant breeds exclusively as my canine companions. Over the course of those years I have had varied experiences with boarding facilities, ranging unacceptable to disappointing to adaequate; that is, until I discovered Auntie Barbara's. In the earlier years I had been able to have the dogs cared for at home or with a trusted friend. Auntie B's has become, admittedly at first by necessity, equal if not better than that option. I simply cannot fathom taking "the girls" anywhere else.
Its been a long time since Thor vacationed with you. He is 16 now and slowed down a lot. We still recommend Auntie Barbara's to anyone needing a place to board their pet. Happy to read things are going well. Be well and continued success!!! Pete Fran and Thor.
I have taken Niki and Bart to Auntie Barbara's for many years. They are both ready and happy to be going on their vacation. They know they will be getting the special care and most of all the extra treats.
I have had many dogs and used many kennels. Until Auntie Barbara's I was never satisfied with the condition, both mental and physical, of my dobes when I pick them up. Even though I have many closer options, I prefer making the drive knowing my dogs are going to be treated and appreciated the same way they are at home. Also, Barbara is very knowledgeable about dogs, which makes me even more comfortable about leaving them in her care. For me there is no other choice!
Buddy has been going to Auntie Barbara's since 2005. We will rearrange our time off around Barbara's availability as we trust leaving our little guy only with her & her staff! He comes home happy after each stay. Knowing this allows us to enjoy our vacations. (we actually started using her services in 1999 for our beloved Sam who passed away in 2004).
Thank You,
We just wanted to say thank you to Barb, Hsley and everyone who took such great care of our girl, Riley. We would never go on a vacation unless we knew we could leave Riley at Auntie B's! The accommodations and care are outstanding – just knowing that our family member is in her own comfortable room, playing with other pooches and not in a cold, concrete kennel gives us peace of mind to really enjoy ourselves. Thank you so much – we look forward to our next trip!
Thank You,
Milo had a great vacation time with Fiona and all of the care givers in April, 2013. When I dropped him off, his first day, he couldn't wait to play with the other dogs. He was happy to see me return, but he was very well cared for. We appreciate the love and care he receives at Auntie Barbara's.
Thank You,
Two thumbs up for auntie Barbara and her deticated staff Ryder loves going there to play never have to worry about him when we go out of town/Would'nt leave him any where else ******************
Due to my husband's serious illness, we were at wit's end as to what to do with our beloved yorkie Lydia while he received his treatment. We had never left her with anyone before and we worried about leaving her. We didn't need any additional stress. We called Auntie Barbara's and set up our interview. Although I cried when I had to leave her, I knew she would be well taken care of just as we do. I felt reassured when Barb told me that we could call anytime to check on her, and we did. This eased our minds tremendously and gave us one less thing to stress about. Knowing that she was pampered while we were away made things so much easier. The facility is so well thought out and clean and Lydia had all the amenities of home. Thank you, Barb, Hayley and staff for taking such good care of our baby while we had to make a difficult 3 day trip. Hope to see you again real soon.
Barbara, Just wanted you to know your services are fantastic! Ripley thinks you all are pretty fantastic also (especially Fiona and he hopes she gets back to feeling like herself once again! Your organizational keeps all in order… Allowing the dogs to bring their own toys and treats makes them HAPPY! Thanks for being available for our favorite furry people… M.E. and myself have always felt very secure in leaving our various "pups" in your care.
We have been using Auntie Barb's for 7 years now. We were going to cancel our honeymoon because we didn't feel comfortable boarding our dog Bruno anywhere until we found Barb. We have since added 3 more dogs to our family and they all LOVE going on their vacation! They cant wait to get out of the car and get in to the building. We have even bumped into Barb out shopping with the pups and they pull to get to her, our Rottie even jumps up to give her hugs! Without Barb we wouldn't have our vacations!! Thank you so much for taking such good care of our babies!!
We just returned from our vacation and picked up our "son" Jackson from Auntie Barbara's. This is his sixth vacation with Barb and her staff and I cannot ever say enough good things about her caring nature and her wonderful staff. Barb spoils my dog, almost more than I do myself, which is nearly impossible to do. However, Jackson loves going on his little vacation to Auntie Barbara's, checking in with his friend Fiona and exploring about at his leisure. He receives excellent treatment. There are just not enough adjectives to describe the beautiful, clean, loving, caring environment at Auntie Barbara's. Thank God for people like her and her staff. She puts families at ease when leaving a member of their own behind to travel. We look forward to planning our next vacation and Jackson will look forward to returning. You and your staff are superb! Thanks for all you do!
We have just finished vacation 39. And there is no other place that we & Wrigley feel more comfortable at. Our Wrigley has bad allergies & Auntie Barbara takes good care of him. He is very happy there. Fiona is his pal, & when he's done playing, he gently puts his paw on her. And she keeps coming back for more!!! Thank's Barbara.
Auntie Barbara's is the absolute best place to board a pet! Our mini dach Bazzil has always received tender, loving care, as well as individual attention. The accommodations are clean and spacious, with a beautiful outside area in which to run and play. We know our little man will always be well taken care by Auntie Barbara and her wonderful staff!
So why drive 135 miles round-trip to Auntie Barbara's, when there are numerous places to "board" five bassets in the Chicago area?
Because no where will you find the personalized attention to your treasured canine companion's welfare than you will with Barb and her crew! Peace of mind, knowing that Barb's "eagle eyes" won't miss a beat are precious commodities when one is out of town. Five (out of five) stars isn't enough for Auntie Barbara's!
Just wanted Barbara to know that we had to put Mia to sleep a couple of weeks ago. She fell & tore her ACL and was unable to walk. She was not a candidate for surgery due to severe arthritis in her limbs & back. It was a difficult decision to make but we didn't want her to suffer. She was only at your place twice but we know she was well taken care of while we were out of town. She was a shy girl but we know that she really enjoyed her stays with you & we appreciate your kindness when she was there. We are looking to adopt a rescue sheltie(s) as our house is very quiet without a dog here. Thank you again for taking such good care of our little Mia.
Sadie had a wonderful time, I believe.
She came home very calm and as though she was on vacation. I certainly felt comfortable leaving her to a wonderful, caring environment filled with love. Knowing that she was well cared for helped me with my post surgery recovery. Today we are happy to be reunited as a family but the care she received during her stay provided me with one less thing to be concerned about. Many thanks for all you did for and with Sadie.
I have had giant breed dogs for 40 years and have searched for and used varying facilities over that time that can adaequately accomodate them. Auntie B.'s is without question the finest facility I have encountered. Not just the facility but Barbara herself and her staff. One would be hard pressed to find a better place and friendlier people to your dog with.
Moe loves Auntie Barbara's, and so do we. We worried about leaving him the first time. Well the worry was needless. And on his second visit, he raced to Auntie Barbara, then raced to the field to run and play and had no problems quickly forgetting about us leaving him. He is a happy dog and he's happy at Auntie Barbara's. We know he is well taken care of and treated with tender loving care.
Hi, just wanted to add to the many,many fabulous reviews!
We never felt more comfortable leaving our quirky dogs in Auntie Barbara's qualified and caring hands. She gets dogs and their owners! We felt good after the interview where Auntie Barbara spends time getting to know the dogs and their needs and habits as well as their quirky behaviors. We felt good when we dropped them off and when we called to check on them. We also felt really good when we picked them up because the dogs were happy and not all wound up like when we've picked them up elsewhere. Would leave our dogs at Auntie Barbara's in a heartbeat!
I have been bringing Champ to Auntie Barbara's for 3 1/2 years. My dog is always eagerly waiting to jump out of the car to greet Auntie Barbara. I know he is well taken care of when I am away as the staff makes sure he gets plenty of exercise, both human and dog interaction and rest. Thank you Barbara for the wonderful service you provide.
Since there is nothing I can say about Auntie Barbara's that those of you who have boarded your pets there don't already know, I'm addressing this to those of you who are looking for somewhere to board your four-legged family member. Auntie Barbara's is the cleanest, "all about the animals", most beautiful place I have ever found. I have owned and have had to occasionally board my huskies for over 50 years. This is the first time I have EVER left my dogs anywhere and not felt bad leaving them. One of the things I like best is that they stay in "rooms" as opposed to kennels. In my case, at Auntie Barbara's, they have large fenced areas where they can run free (unlike at my house which does not have a fenced yard), on grass, not concrete. Mine did not even look back to me when I left them, as they were being offered an open back door to go outside. When we picked them up, they were clean, happy and not crazy-nuts. You will truly not understand the beauty of this "dog friendly" facility, the cleanliness and Aunty Barbara's knowlege and warmth until you have visited and seen for yourself. You will never go anywhere else. Too bad dogs don't understand time, or I would tell them they are going back to Auntie Barbara's in May and October of next year. They would be SO happy!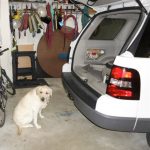 I started loading the truck about 45 minutes before we left for your place, Moses saw the suitcase and this is where he stayed until we left.
Thanks again for a wonderful vacation, the boys are very well cared for and we were able to enjoy ourselves without worrying about them!! This is their 3rd time there and they are excited to see us when we return but then I think they are sad to leave! I know 2 – 2 year old labs are full of energy and we appreciate your dedication to them. I can not thank you enough!!!!!
We had not boarded Bailey for many years and had concerns on how she would be. She was slow to warm up but when our son came to pick her up she wasn't excited. He was disappointed that she seemed happy to stay. We will be back and are thrilled with the staffs patience with our older pet. Thanks to all!
Thank you and your staff for doing such a wonderful job. The facility was clean and well-kept and the staff was very nice. We dropped off our dog, Barney, for 10 days. He had a great time and we were able to relax knowing he was safe and sound. (Also, thank you so much for being tolerant of his very hyper behavior.) We have recommended your business to everyone we know and we will definitely be leaving him with you on our next trip!
Thank you Barbara and your staff for taking such good care of Maggie. She loves coming for a visit. We are so thankful for your wonderful facility and for the great care Maggie receives. It allows us piece of mind so we can enjoy our time away from home.
This is the first time I have ever boarded my babies! After visiting many places, I found Auntie Barbara's. From the initial visit it felt so right! Thank you for caring for my babies! They came home happy healthy and tired. I have found a wonderful place to take them and can now enjoy spending a little time away once in awhile. Thank you so much!!!!!!!
So relieved to know my Bailey is being taken care of by the best. Could not ask for more. Thanks Barb and staff.
Thank You so much for taking such great care of my babies. I have never left them overnight in 6 years. Thank you for going the extra mile in cleaning the longhair on Isaiah. I know how busy you were during the past holiday, yet you took the extra time for him. That is why I and everyone I know will only go away if your available to watch our babies. They came home happy, healthy and on a great schedule. I can not thank you enough. Elaine
Thank you Barbara and all your staff for taking such great care of Samson. While away on the longest vacation I've ever taken, 10 days, I came home to find a very healthy, happy dog. The peace of mind knowing that Samson was getting lots of attention and lots of outdoor time is worth his weight in gold—and Samson is a big dog!
THIS HAS BEEN THE 3RD TIME WE HAVE BOARDED OUR YEAR OLD GOLDEN RETRIEVER CODY. WE FELT GOOD AFTER DROPPING HIM OFF BECAUSE HE STARTED SQUEELING ONCE HE SAW FIONA AND COULDN'T WAIT TO GET OUT OF THE CAR. IT IS SO NICE TO BE ABLE TO TRAVEL AND KNOW OUR DOG IS BEING WELL TAKEN CARE OF AND HE IS HAVING A GREAT TIME PLAYING AND RUNNING. THANKS AGAIN AUNTIE BARBARA, FIONA AND STAFF!
Buffett, Miss Magic and Finnegan stayed for two weeks. They came home happy, and healthy, like they had been home the whole time. They are looking forward to another stay with Auntie Barbara! Highly recommend!
We have been bringing our Sandi to Auntie Barbara`s since 2005. Always had a pleasent experance.Its always good to know that your pet is being cared for by the best. She`s the only one we`ll trust while we are out of the country for a week or two.We know she will have plenty of exercise and be in a clean enviorment
We have used Auntie Barbara's a number of times and are very pleased with her facility, employees, and love for our dog. Cosmo (our spoiled Maltese) is well loved and taken care of every time we leave him at Auntie Barbara's. We highly recommend Auntie Barbara's to all of our friends. Thank you, Auntie Barbara!
We love Auntie Barb's for our 2 dogs. When we pick them up they are always healthy, clean, happy, and VERY well taken care of. All of their blankets, rugs, dishes, etc. are freshly washed. We had a bad experience and lost our last dog after leaving him at a different local kennel and we were very hesitant to leave these 2 anywhere. We finally did lots of research and decided to try Auntie Barb's. We are THRILLED with everything about Auntie Barb's. They always come home very well behaved, tired, and amazingly very calm after the excitement of being home again wears off. We would highly recommend Auntie Barb's to anyone who wants the best care for their dogs while they are away! Auntie Barb and all of her staff are very polite, knowledgeable, and excellent with our dogs. We can have fun and enjoy our time away and not worry because we know they are very safe and happy! Thank you to Auntie Barb and her staff!!
We just wanted to Thank you for all of the care you have given our dogs over the last 13 years. As Hershey gets into her final time with us we are so grateful for the role you and your staff have played in the lives of our dogs. We feel comfortable leaving the area or even country knowing that our dogs are as taken care of as if we were home. We never worry about them, and they are always excited to visit Auntie Barbaras, Thank you.
I Have been taking Casey to Auntie Barbara's for about 10 years. She cannot wait to get out of the car when we get there. I don't even get a look good-bye. I never worry about her when she is there.
I worked for Barb for over 10 years and she is practically a second mom to me. As a former employee of Auntie Barbara's I feel confident in saying you will not find a better place or more qualified person to care for your pets. Every animal that Barb takes in is treated like her own pet. Every day she gets up at the crack of dawn and does not stop working until all the dogs are asleep at night. She pays close attention to each animal and makes sure the staff does as well. Your pet will be safe, comfortable, and happy here while you are on vacation.
We leave our pets in your care and I leave knowing they are receiving the best care the same as if they are at home, you can't ask for more than that. The worst thing would be worrying if your animal is ok and your 1000 miles away, I never ever worry about my Springers while I'm away.
It's been about 6 years since we started bringing our dogs to Auntie Barb's place. My work schedule at the time called for frequent traveling out of state, which meant leaving my dogs with someone I could trust. I didn't have the best experience with a couple of 'big name' pet sitting services, plus one of my dogs got very sick after being there only 2 days – so I was overly cautious after that experience.
I heard through word of mouth about Auntie Barb and loved the idea that she had a big 10 acre fenced-in lot for the dogs to run and play, that the dogs were guaranteed to be outside multiple times a day and played with, and that her barn was converted to adorable 'suites' for each dog. So I took my 2 in for their interview and both my dogs (one a very timid rescue) took to Auntie Barb right away – that sealed it for me.
I would and constantly do recommend Auntie Barb's place to any and all pet owners. There isn't anyone else I would ever trust with my dogs. You simply won't find a better, cleaner or happier environment and for all that your dogs get I really think the prices should be higher. The employees are fantastic with the animals and Barb herself is the absolute best. There's just no reason to look for any other place to take care of your furry kids than here!
Auntie Barbara is the absolute best in pet sitting..!Barb is educated in canine health and behaviors..Her facilities are extremely sanitary, modern and comfortable for our pets. I believe their stress levels are kept to minimum due to her care and stable environment. My dogs are always excited to stay at Auntie Barbaras. We're able to leave them with Barbara and be confident they're receiving the best care possible. I feel we are very fortunate to have her in our area. I'd be vacation-less with out her : ) Thanks Barb for your hard work and dedication !
Thank you so much Auntie Barbara for for taking such good care of our Sadie, Bubby and now our Abby girl. From helping them with their fear of thunderstorms, to running and playing on acres of fenced grass yards. We will never be able to thank you enough for the peace of mind we have when they are in your care.
We would never take Pebbles & Summer anywhere but Auntie Barbara's! They were taken care of like family – lots of love, lots of exercise and lots of attention for our two wiemaraner's. It is almost like home. Thank you Auntie Barbara!!
Auntie Barbara's is a very lovely place! I love the fact that they have actual rooms instead of kennels. It makes it feel like home. I would highly recommend Auntie Barbara's if you plan on boarding your pet!
I can't believe it has been over ten years since we first brought our pup to Auntie Barbara's! We had first brought Lieve, our cocker spaniel, to a kennel to save a little money. After we picked her up we vowed never to do that again. We were so worried about what to do with her until we found Barbara! The special attention that Barbara gives each and every pup is amazing. It's worth every penny. You can tell she is a true dog lover and cares for them like they were her own. She really takes the time to get to know them, their likes and dislikes, their fears, routines, etc. It always gave me peace of mind knowing that she was watching Lieve. I was really able to enjoy my vacations knowing my pup was in the best of hands. The facility is always clean and neat. The dogs go out to play so much that they sleep great. The lodging for the dogs is an individual room; not a kennel, providing more of a tranquil environment. I would and do recommend Auntie Barbara's to anyone who really cares that their "best friend" is getting the best treatment! Because Barbara lives on site she is always there in case of emergencies, storms, etc. Okay, I could go on and on and on……..
Prima, my cocker spaniel, always loves to hear, "Let's go to Auntie Barbara's" She cries as we get closer to the house and when she sees "Auntie Barbara" open the gate, she goes completely bonkers. Auntie Barbara's has been THE PLACE to stay when we've gone on vacation. We know that Prima is well taken care of, is treated like one of Barbara's own, and comes back to us all the happier. Comparing cost of stay from Auntie Barbara to another facility has never crossed my mind as once I first met Barbara and Prima met her and this wonderful place, I knew there was no other setting for her. She is treated to her own little room (where she stays with her sibling-owned by my sibling) as we've ventured off on our many trips. Prima is spoiled spoiled spoiled while at Auntie Barbara's. I know she is taken out often and run around and played with and treated with the kindness, respect and humanity that my pet deserves. Being at Auntie Barbara's has helped socialize her as well with other animals. Barbara has been there for us through all of Prima's life, has helped us when Prima's had medical concerns as well as social concerns. Leaving Prima at Auntie Barbara's makes me feel safe and secure that Prima will run run run and get smothered with love and kisses that I KNOW other facilities could not possibly employ. We are so grateful that Auntie Barbara's has become a second home to Prima when her mom and dad need to get out and play on their own! Thanks Barbara!! and staff! You're the best!
We found that Auntie Barbara is the most caring and compassionate person who could ever care for your dog. Our dog loved going to her house to stay! Her facility is nicer than some motels we've stayed in over the years! The grass runs are fabulous for exercising and doing their business. Such a warm and inviting place to leave your pets, so unlike the wire cages and tiny concrete runs where your dog finds itself doing it's business next to where is is supposed to exercise. We can't say enough good about the care your dogs get when they stay with Auntie Barbara. On one occasion our Brandy got very sick while we were gone and Barbara made sure to notify us, to get Brandy to our vet and then had a conference call with us and out Dr. Dan. She goes the extra mile and we love her. Ten stars!!!
This is the best place to have your pet, the other family member, while you enjoy your vacation. This is truly and home away from home and a vacation for them too. Jackson loves visiting Auntie Barbara. She is caring and loving and truly has the best interest of your pet and their well being in her heart. There is no other place like Auntie Barbara's!